The Saskatoon component of the experiment is significant as it experiences some of the coldest and hottest weather in the region. Although the PRTWO experiment ended in the year 2000, the arboretum remains a site of experimentation as new species are added annually while the original trees continue to mature.
The collection is curated and maintained by the Horticulture Field Facility of the Department of Plant Sciences, with assistance from Meewasin Valley Authority.
Patterson Garden Arboretum is listed as a garden attraction of Canada's Garden Route.
Climate and Geography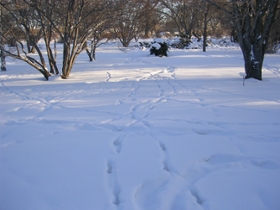 Saskatoon is located in zone 3b of the Plant Hardiness Zones of Canada map (Agriculture and Agri-Food Canada), based on many variables such as minimum and maximum temperatures, wind speed, and frost-free period. We have a sunny continental climate with cold winters and hot summers. The typical temperature variation for Saskatoon ranges from -21°C in the winter to 25°C in the summer, with temperatures rarely below -33°C and rarely above 31°C, making it slightly colder than the other major cities of the Prairie Provinces (Winnipeg, Regina, Edmonton, and Calgary). Record temperatures are -42°C on Feb 8, 1994 and 40°C on June 5, 1988. Average annual precipitation is 34.7 cm, mostly falling as rain in the summer. 
Saskatoon is located in an agricultural region of chernozem soil on the Canadian Prairies. Non-agricultural land includes fescue prairie grassland, willow-edged wetlands, and aspen bluffs, an ecoregion known as Aspen Parkland. The soil in the Arboretum is clay loam, with a pH of approximately 7.9. 
Dr. Cecil F. Patterson
The Arboretum is named in honour of Dr. Cecil F. Patterson, first head of the Department of Horticulture (now part of the Department of Plant Sciences) at the University of Saskatchewan. Dr. Patterson served the University for nearly fourty years and was instrumental in bringing horticulture to the people of the region, serving as professor, extension specialist, and plant breeder. One of Dr. Patterson's plum cultivars, 'Patterson Pride', has been planted in the Arboretum.
The name "Patterson Garden" has been in use for many years; recently the term "Arboretum" has been added  to reflect the nature of the collection. 
Dedication Ceremony Photographs